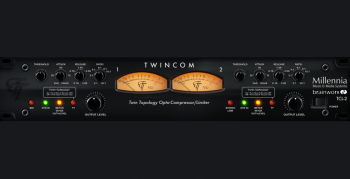 Team R2R | Feb 14 2019 | 33 MB
The Millennia TCL-2 delivers the stellar, transparent sonics of the beloved Millennia Twincom in plugin form. The original hardware Twincom features Millennia's "Twin Topology" technology, which gives users the ability to select either a full tube, or full J-FET/solid-state signal path.
Both the complete tube and solid-state signal paths have been faithfully modeled in the plugin version. In addition, the plugin version provides the ability to process Mid (M) and Side (S) information separately, as well as a Dry / Wet signal control for each individual channel.