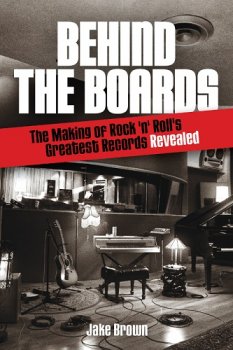 English | November 1st, 2012 | ISBN: 145841972X | 378 pages | EPUB | 4.11 MB
(Music Pro Guide Books & DVDs). The term "soundtrack of our lives" is one commonly tossed around by artists, fans, critics, and historians in discussing rock 'n' roll's timeless hits, spanning every subgenre, from pop to hard rock, heavy metal to new wave. In the pages of Behind the Boards: The Making of Rock 'n' Roll's Greatest Records Revealed , the first definitive rock record-producers' anthology of its kind, readers are taken inside the studio, into the creation of the generations of classic records that collectively make up that soundtrack of our lives

The book appeals to both fans and academic audiences interested in the art of sound recording/record producing, providing a rich demographic spread of potential niche and mainstream markets. This is the first definitive record-producers' anthology to cross every one of rock's subgenres, featuring intimate, first-hand accounts of how the making of many of rock 'n' roll's greatest hits were created, via exclusive interviews with the producers who recorded them.

Some of the songs discussed are "Every Breath You Take" by the Police, "Comfortably Numb" by Pink Floyd, "In the Air Tonight" by Phil Collins, "Smells like Teen Spirit" by Nirvana, "Beautiful Day" by U2, "One" by Metallica, "You Shook Me All Night Long" by AC/DC, "Sabotage" by the Beastie Boys, "Jane Says" by Jane's Addiction, "Sledge Hammer" by Peter Gabriel, and "Sweet Emotion" by Aerosmith, among countless others by legends like Bob Dylan, the Rolling Stones, Kiss, Led Zeppelin, Bob Marley, the Red Hot Chili Peppers, Soundgarden, the Pixies, The Who, Jimi Hendrix, Journey, Judas Priest, Motley Crue, Sting, Tom Waits, Smashing Pumpkins, Pink, John Mellencamp, the Black Crowes, New Order, Ministry, Fleetwood Mac, Foreigner, and many more.



download from free file storage