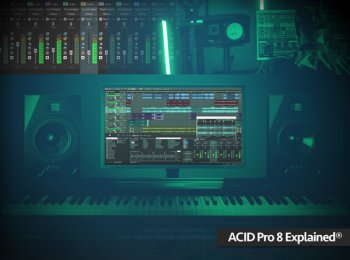 FANTASTiC | 31 August 2018 | 403 MB
In this Groove3 video tutorial series, DAW pro Gary Hiebner delivers a video collection designed for the new ACID Pro 8 user! Learn everything you need to know to get started with ACID Pro 8, all the way through exporting your first song for everyone to hear.

Gary starts by welcoming you and then gives an introduction to ACID Pro, the outstanding features off the software, and the different versions available. You'll then see how to install the program and its additional content, as well as setting up your audio device, making getting started a breeze.

Next, Gary covers the important ACID Pro basics such as navigating the interface, adding audio clips to your project, recording audio to tracks, editing clips, clip properties, and using Chopper, the built-in audio editor which makes cutting and splicing your audio fast and fun.

Moving on you'll explore topics like using the mixing console, adding audio effects to sculpt your sound, setting up and using send effects and bus sends, using the Essential FX Suite and Analog Modeling Track, and much more.

MIDI is up next and Gary shows you everything from the beginning, so you can create MIDI tracks and record to them and edit them till your heart's content! He finishes up the video series with tutorials on the included instruments, installing 3rd party effects and instruments, using automation, and exporting out your song so you can release it into the wild.

See the individual tutorial descriptions for more info. If you're new to ACID Pro and want to get started fast, this is definitely the video collection to watch... Get "ACID Pro 8 Explained" today!



download from free file storage